Uncomfortable Beats will be providing a dank alternative form of Xmas eve joy to all non-celebrants and interstate / international orphans this coming Holiday!

Tickets via Eventbrite
FB Event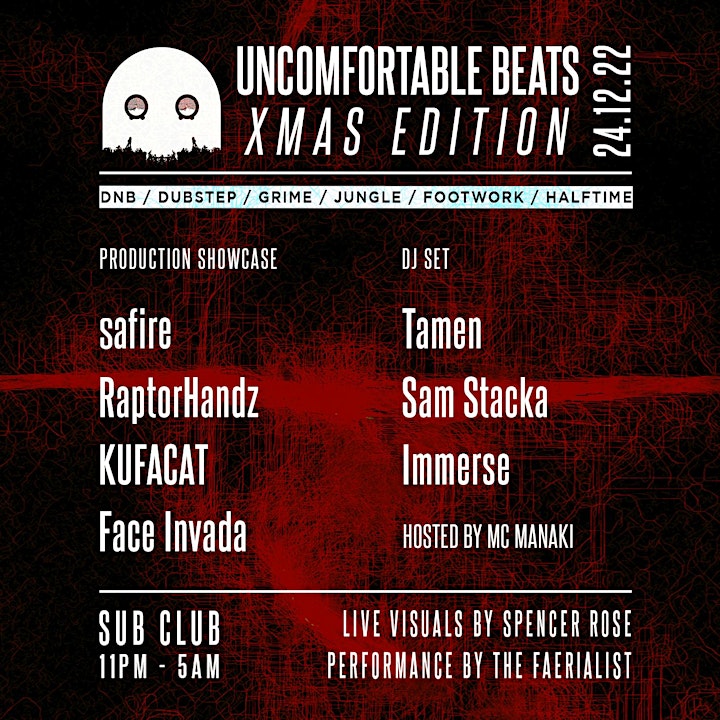 We invite you to join us for an epic night of warped simulation visuals, eclectic beats and sub-centric electronic music.
No fancy dress or Christmas themes, just pure unadulterated underground bass-music, in celebration of local Producers, Performers, Artists, DJ's and punters. As per usual we are spanning wide across the bass-spectrum of sounds, so you can expect to hear sounds like UK Dubstep, Grime, Jungle, DNB, Juke / Footwork and more.
To make the night even more special we have asked a handful of our artists to perform full sets of their own music productions. You will hear completely original sounds from Safire, RaptorHandz, Face Invada and KUFACAT plus DJ sets from Tamen, Immerse and Sam Stacka.
Peppered throughout the night The Faerialist (Celestial Circus) will be performing mesmerizing dance, plus UK-Export MC Manaki will be toasting the mic and guiding you through to the morning.
Visual-wise, Spencer Rose will be freshly back from overseas to provide a unique sensory trip for us once again. Attendees of previous events and online streams will remember his incredible Slime Mold simulation projections. We look forward to seeing what else he has been working on since.
MUSIC LINEUP (alpha)
Face Invada
Immerse
MC Manaki
RaptorHandz
Safire
Sam Stacka
Tamen
Performances by The Faerialist
Visuals by Spencer Rose
Doors: 11PM
Tickets: $15/20 Presale [Eventbrite]
$25 on Door
Venue: Sub Club, Flinders Ct
Melbourne VIC 3000
We acknowledge the Wurundjeri & Boon Wurrung people of the Kulin Nation as and true owners of this land. We pay our respects to their elders both past and present.